文椿ビルヂングの英文紹介ページが出来ました。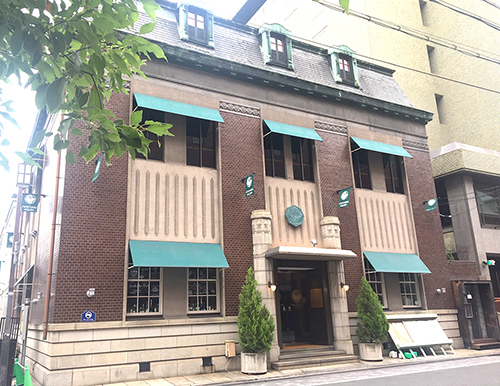 三条両替町北東角に佇む文椿(ふみつばき)ビルヂング。
こちらは徒歩一分から十分圏内に
最新ホテルから老舗旅館までが多数在る
観光客の皆さまにとっても大変便利な場所。
時期を問わず、海外のお客様のご利用も多い文椿ビルヂング。
お食事やショッピングを楽しんでくださるのは勿論のこと
建物の雰囲気を好んで回遊される方も多く
京都の近代建築の歴史や、その有効利用のかたちを
世界の方々に広く知って頂くきっかけの一端を担っているともいえます。
と、いうわけで
海外の方にもより深く「文椿ビルヂング」を知って頂こう!と
この度、当サイトのビル紹介ページに英訳文を追加致しました。
2003年に作成された
「三条室町プロジェクト コンセプトブック」から引用し
「文椿ビルヂング」ネーミングの由来や、その名が付く迄の変遷、また
当時の三条烏丸界隈街の様子などについても触れており
読み応えのある内容。ぜひ、ご一読くださいませ。
ーーーーーーーーーーーーーーーーーーーーーーー
Fumitsubaki Building standing in the northeastern corner of Sanjo ryogae-machi.
There are lots of new hotels and old ryokan within 1 to 10 minutes walking distance.
It is a very convenient place for tourists.
Fumitsubaki Building, which is frequently used by overseas customers regardless of the season.
Not only many people enjoy eating and shopping .
They like the atmosphere of the building and walking around.
It can be said that it is part of the opportunity to widely inform the world people about the history of modern architecture in Kyoto and its effective use form.
Therefore, I thought that I would like foreign people to know "Fumitsubaki building" more deeply.
This time, I added English translation of this page of "Fumitsubaki building" introduction page.
"Fumitsubaki Building" The origin of naming,
The history until the name is attached,
And I also touched on the state of Sanjo Karasuma city at that time.
This content is well worth reading.